Robert Urquhart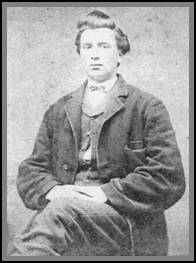 {Robert, age about 16 years}
Chapter member, M. Gertrude Martin, donated all data, documents, and photo above. Gertrude can be contacted at – 580 Upper Grassy Hill Rd., Woodbury, CT 06798. 203.263.3908 or  mgmartin@snet.net
Note - While searching for records on Robert U. Martin, no veteran grave registration card has been located for him. This is an example of thinking that any records at the Jefferson County Courthouse Recorders Office or any county courthouse office has ALL the records for any veteran. Obviously, records for this veteran have not been recorded in the grave registration card index, or someone has taken the card from the file.

Robert Urquhart Martin was a private in the Company A, 143rd Regiment O.N.G.

He enlisted on May 2, 1864. He was discharged September 13, 1864 at Camp Chase, Ohio.

He was born in Jefferson County, Ohio and was 18 years old when he enlisted.

     Robert Urquhart Martin was born on April 29, 1846 and died on April 15, 1880. He was a private in the Civil War. He married Lizie Purvis (1842 – 1925) on June 5, 1872 and they lived in Irondale, Ohio.

The brother of his wife, Lizie, went into a water well where there was gas. This accident ended in his death. Robert's arm was injured and he did not recover and died shortly after. He is buried in the Chestnut Grove Cemetery, Brush Creek Twp., Jefferson County, Ohio.

Robert's Ohio Volunteer Certificate, 113th Regiment of the Ohio National Guard dated 1864, was given to the Scot's Settlement History and Genealogical Center, 18790 Fife Rd., Wellsville, OH 43968, by M. Gertrude Martin in 1996.