Alice G. Shively Freed, chapter member and editor of The Family of Jacob Schaublin and Maria Martin submitted the following family history. Alice edited the history compiled by family and friends. She donated a copy of this history to our chapter. 
The Family of Jacob Schaublin and Maria Martin, Waldenburg, Switzerland, 1650 and their Shively, Shiveley, Shivley, descendants.
Alice writes that this history was written as an effort to discovery which family stories were true or tales. She spent three years trying to prove their ideas and came up very empty-handed. Thus she needed a different approach. To widen her search, she started a home-based SHIVELY NEWSLETTER. Along the way, she met many other Shively searchers and a few with plausible answers. In time, she discovered that her family was from Switzerland and held a history dating back to only 1650. She also learned, from the research efforts of others, of which these Shivelys were called Schaublins, and were regarded as Huguenots from France. Beyond that, she found other information.
The Huguenots were from villages in France and during the early times when people did not use last names. At some point in time, a group of villagers, possible not all related, took the Schaublin name. Following the revoking of the Edict of Nantes, these villagers fled to avoid religious persecution. Some went to Switzerland, a few to Germany and a few others to the Carolinas.
In time, the idea of DNA research became possible and popular. With this scientific guide, we have been able to find our true family line. It is hoped that in the future, we will be able to get more Shivelys to participate and get a greater in-depth family history.
Note – While Alice G. Shively Freed edited the family history, a cousin, Dr. Ray Shively, compiled a separate alphabetical Shively Surname Index and included it with the family history book donation. If you would like to contact Alice, write to – 215 Valencia Blvd., Apt. 206, Belleair Bluffs, FL, 33770. You can also go to the Shively family web site to learn more about the DNA studies at – http://www.shivs.com/shively/ShivelyFamilyHistoryBookIndex.htm
DESCENDANTS OF DANIEL AND BARBARA SHIVELY – FOURTH GENERATION – Daniel Schaublin/Shively, baptized 29 Jan. 1730, Waldenburg, Canton of Basel Switzerland, died ca. 1808 in Jefferson County, Ohio. He married Barbara Tschumi, daughter of Jacob, in Wangen, Canton of Bern, Switzerland. They resided in Shepherdstown, Berkeley Co., Virginia. There are no clear records of the family being directly involved in military action during the Revolutionary War. In 1800 the tax list showed the family as living in Pike Run Township, Washington County, Pennsylvania. This may not have been a physical move for the family, but rather a shifting of state borders. By that time, their four daughters were married and had established homes and families of their own. Son John, and his family had migrated to Kentucky some years before. In 1804-1805, at about the age of 75, Daniel and son Daniel, as well as members of the Sphar, Pluck, and Hazelbaker families traveled to Wayne Township, Jefferson County, Ohio. By then, the Indian situation was less threatening. The Ohio area was open to settlers and property was easily available. 
In the southwest corner of Pennsylvania, is Ten Mile Creek. Some of our Shively families were known to be living in that area. Barbara, daughter of Daniel and Barbara married in 1786 to William T. Jackman at nearby Fort Redstone. In order for the family to move to Jefferson County, Ohio, they may have made rafts of logs, floated down the Monongahela River to Fort Pitt (now Pittsburgh), continuing on the Ohio River to the Steubenville area of Ohio. They may have left the river at Yellow Creek to reach their desired properties. The log rafts would then be used to make their first shelter, while they were building log houses. Land records from Cincinnati and Steubenville show additional family members, not known before. Their properties were either connected or nearby. Christian, 6 Dec. 1803; Jacob, 6 Dec. 1804; Christian Jr., 9 Mar. 1805; Ullery, 11 Apr. 1805; Daniel, 12 May 1805; Jacob, 3 Oct. 1805; Ullery, 31 Oct. 1805. Earlier properties were of many acres. Unknown family members may have had establishments of their own on the same property. Land records show only the recorded owner of the land. Later, tax records would show other family members who had certain properties to declare.
Children of Daniel and Barbara Tschumi Shively were:
Anna Maria "Mary" Shively – born 2 Oct. 1752, baptized 4 Mar. 1753, married Mattern (Martin) Sphar Sr.
John Shively Sr. – born 21 Nov. 1753, baptized 28 Apr. 1754, died Dec. 1839, Falmouth, Pendleton Co., KY, married Unknown before 1782.
Daniel Shively – born ca. 1756 (listed on 1777 Berkeley Co., VA tax list)
Barbara Shively – born 1757, died 10 May 1837, married 1786 William Jackman at Fort Redstone, PA.
Elizabeth Shively – born 1758, died 1850, married (1) Peter Hazelbaker, married (2) Ralph Smith.
Margaret Shively – married Nicholas Pluck, 5 Mar. 1782, Berkeley, Co., PA.
A LONG TIME AGO – The Shively story begins somewhere in France, before the 17th century. People who were of the Protestant faith were called Huguenots. However, in 1685, during the reign of King Louis XIV, religious freedoms were revoked and a reign of terror began for all Protestant believers. Many fled to Europe while others came to America. One group settled in Canton of Basel, Switzerland. This is located in the "corner" of Switzerland where France and Germany come together. It was the custom then, for people of the same area to take the same surname. The name was Schaublin. It is not known if these people were related or not. Over the years of course the surname has undergone many changes.
Our first recorded ancestor is Jacob Schaublin, born ca. 1650, probably in Waldenburg,. He married Maria Martin May 1, 1676. They had eight children. Parish records describe Jacob as Schmidt von Waldenburg,
(Smith from Walderburg).
Below- Type of log house John would have built in the 1790's.
Note – leaning chimney in order to stabilize the log walls.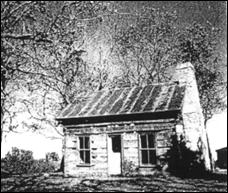 OUR SWISS ANCESTORS
FIRST GENERATION – Jacob Schaublin, born ca. 1650 probably in Waldenburg, Canton of Basel, Switzerland, married Maria Martin. His occupation was Smith. They had eight children. They were Hans Jacob; Daniel; Christoffel; Elsbeth; Anna; Verena; Maria and Jacob.
SECOND GENERATION – Daniel Schaublin, baptized 17 Feb. 1680, in Waldenburg, Canton of Basel, Switzerland, married Maria Reichner. Maria was from Aarburh, area of Bern. Daniel's occupation was Smith. They had five children.
THIRD GENERATION – Daniel Schaublin, baptized 26 May 1709, in Waldenburg, Canton of Basel, Switzerland, and died 1763 in Frederick Co., VA. He married (1) 21 Jun. 1729, Margaret Spitler, daughter of Werni Spilleler and Verena Tschudi. (2) Married Christina, probably in America. All five children and Christina were alive and mentioned in Daniel's will dated 18 Par. 1763, Frederick Co., VA.
TO THE "NEWLY FOUND LAND"
About 1746 Daniel Schaublin and his older brother, Jacob, and their families secretly left their homeland. This means they did not notify the authorities of their intentions, nor did they pay the usual fees and taxes. They would have made their way down the Rhine River to Rotterdam, Holland. From there, they would have boarded a passenger ship bound for Cowes, England, and on to America. After a long and difficult trip, the ship ANN landed in Philadelphia on the 28th of September 1749.  The following report was made at Waldenburg in 1749 referring to Daniel: His secret emigration and that of his brother Jacob is announced in a report of the Obervogt, read in Council May 14, 1749…in which is presumed that they went to Pennsylvania. His own emigration is confirmed by RL 1753"… "First from Daniel Schaublin of Waldenburg who went to the newly-found-land 3 years ago and at present inherited 50 pounds from his grandfather"… The two Schaublins [took their wives and children] along.
The emigrants were not acting blindly. They had some prior knowledge as to what lay ahead for them. The reasons for leaving their homeland can be found in a number of texts, particularly Faust – LIST OF SWISS EMIGRANTS IN THE EIGHTEETH CENTURY TO THE AMERICAN COLONIES. Switzerland was a bastion of Catholic faith in the 1700's and Protestants, especially the Baptists (Anabaptists and Mennonites) were an unending problem for the government. The most terrible and relentless persecution by courts especially appointed, and spies tracking the suspected to their homes. Executions by fire and water, compulsory service in the foreign armies or on the galleys of the Mediterranean, could not stop the spread of the sectarian doctrines Yet, the Swiss government did not want its citizens to leave, fearing the loss of soldiers, and agricultural and industrial workers. A decrease in population could mean economic or political turmoil. So emigrants were punished…
There are letters and records telling of a Daniel Schaublin being sold as an indentured servant upon arrival of the ship ANN in Philadelphia in 1749. It was a common practice, in those times, to pay for the immigrant family's fare by a member of the family spending a number of years in servitude to whoever paid the passenger's expenses.
It is not known just where Daniel and his family first settled. It is known that the immigrants were able to stay in "barracks-like housing" in the Philadelphia area. This gave them a chance to work and gain the means to move to the settled area. Their first property records are dated 1758. The westward journey went from Philadelphia in or near Berkeley County, Virginia (now West Virginia). 1750 was the arrival year for his two daughters, Barbara and Hannah.. 
THE EXODUS CONTINUES
One family in particular was to become an important part of our family's history. It is not known if these two families knew each other before arriving in America. In 1747, Hans Ulrich (John Ulrich) Sparr, wife Margaret Seyler and eight children were making their way down the Rhine River to Rotterdam Holland. They boarded the ship the CROWN with Michael James as Master. The ship arrived in Philadelphia on the 30th of August 1749. They settled in Manheim, Lancaster Co., PA and then moved to Fredrick Co., VA near Winchester. In 1772 their older son, Mattern (Martin) married Mary Shively, in Williamsburg, Washington Co., PA. When the opportunity for free or very inexpensive land became available in the "western areas", they moved to Ohio. Later some of the family members continued to migrate to Indiana.
On the 8th of November 1758, Daniel purchased 234 acres of land in Frederick Co., VA described as "lying in Frederick Co. on both sides of the wagon road that leads from Swearingen's Ferry in Winchester." Four years later, in 1762, Daniel sold 100 acres to his son, Daniel and Jacob Choomy (Tschumi), Daniel's father in-law.
Daniel purchased two or three lots in Winchester, Frederick Co., VA. In 1762 Daniel and his father-in-law, Jacob Tschumi…
However, the properties in VA and PA were very close together. At that time, new townships were being formed, county lines were being moved and state boundaries were being changed. This may or may not have been a move for the family on 20 March 1795, Daniel was granted a patent on 345 acres tract in Pike Run Township, Washington Co., PA. Both Daniel and his son, Daniel appear on the 1800 U.S. Census in Pike Run Township, Washington Co., PA.  Both Daniels next appeared on the 1807 and 1808 tax lists for Wayne Township, Jefferson Co., Ohio. (Reference – Swiss and American records researched by the efforts of George Andres, Eleanore Bosser, Imogene Davis, and Alice Freed.)
Daniel filed his last will and testament, dated 17 Nov. 1808. After the usual bequeaths, Daniel stated that his wife was to have the use of his lands until her death. After which the land was to be sold and the money to be divided among the children: son John Shively, son Daniel Shively, daughter Elizabeth's son John Hazelbaker, daughter Mary Sphar, daughter Barbara Jackman, to daughter Margaret Pluck, $60.00 and to daughter Elizabeth Hazelbaker, one dollar.    
Shown in the S.W. corner of PA, is Ten Mile Creek. Some of the Shively families were known to be living in that area. Map of Monongalia Co. 1776-1810, by Mary Davis Atkinson.