Steubenville Herald Star, Century Edition, 1906 pg. 10 – Isaac Shane one of the original subscribers in 1806 and a constant patron for nearly 75 years… a Justice of the Peace…As the year 1906 marks the anniversary of the Steubenville Herald Star…The subject of this sketch was born December 26, 1782, near Bentlysville, Washington County, Pa., and at the age of sixteen came with his father's family to the Great Northwest Territory, crossing the Ohio River at Cables Ferry near Allikana leaving his wife and several small children on the Virginia side. With several sons- among them Isaac – he explored the wilds of Jefferson Co on Wills Creek on a piece of land now owned by Joshua Moore. All around was woods and no "whites" were west of them….he built a cabin and opened a farm which remained in the Shane family for next half century. His father died in 1804, and was the first person buried in the Two Ridges Cemetery… that same year the subject was united in marriage to Hannah Rex, of Greene Co., Pa., the ceremony taking place in a cabin on the farm now owned by Aaron Galdden's heirs on the 11th day of July 1804, the day Aaron Burr and Alexander Hamilton fought the duel in which Hamilton lost his life…Isaac lived on Red mill, in Island Creek for awhile and conducted a horse mill and still house. In 1813 he moved to Ross Twp. owning eight hundred acres…stocking the land with sheep for the old Wells flocks…His death occurred in 1880 in the 98th year of his age…he was a member of the Two Ridges Presbyterian church, a Federalist in his younger days…and later a Whig… then a staunch Republican and admirer of Andrew Jackson… He was a member of Legislature in 1844 for Jefferson Co…many years served as a Justice of Peace in Ross Twp…He raised a family of nine children, all of whom except one lived beyond the period allotted to man. One child, John was a member of the Steubenville bar and mayor of the city in 1853-4. Others settled on farms near the old homestead…his accounts of early pioneer days in Western Pa., and Ohio, the whiskey insurrection, revival of religion in 1794, accounts of floating whiskey kneel boats from Logstown to Fort Steuben and adventures of Indians, wild animals made him an interesting story teller.
---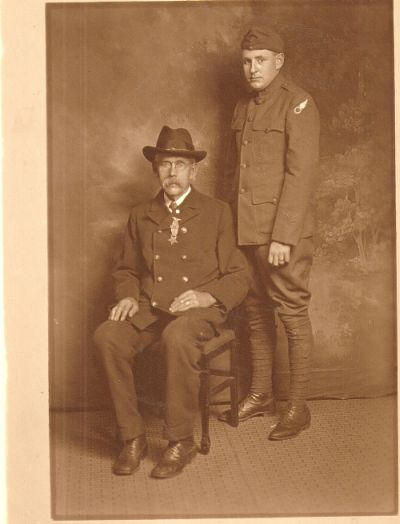 Photo that was taken in 1918.  The younger man is James Willard (Bill) Shane in his WWI uniform.  He was born in East Liverpool, Ohio, on 12-22-1889 and died in Akron on 1-17-1957.  He is descended from John Shane and Elizabeth Nichols.  John was the son of James Shane and Elizabeth Yowie.  The older man in the photo is George Milton Rabbit, who was born 3-27-1846 in Ohio (unknown place at this point) and died in Akron on 4-11-1922.  I have 2 copies of this photo.  One says that he was wearing his Civil War uniform; another, his Spanish American war uniform.  I am inclined to think it was the former as he would have been quite old to be in the Spanish American War.   I have not done much research on the Rabbits as yet.  In fact they have been hard to find so far.   Anyway, if anyone would has information on these folks, I would love to have it.  Similarly, I am glad to give anyone a copy of my Shane line.  
Please let me know if you want any further information. 
Lynda Doll
lyndadoll@windstream.net
Submitted December 2009
---
Shane Family History
In this brief history of the earlier days of James Shane and his descendants, I may,  in passing, make a word of explanation.  The ancestor James, I have designated with the small figure "1" in brackets, his children with the figure "2", their children by "3" and so on, each figure denoting a generation.
James Shane (!) the ancestor of our family was born about the year 1750 and was a native of New Jersey.  What is known of his early life came from the lips of his son, Isaac (2).
James, father soon after his marriage to a young girl of the same place, was seized by a press gang and forced on board a British Man of War then lying in New York Harbor and was never heard of afterwards.  After his disappearance his young wife gave birth to a son James Shane (1).  When he was 5 years old, he was taken into the family of a kind Quaker who gave him a good home and schooling for those far off days.  Attaining manhood he moved to York Co., Pa., with the Quaker family.  There he married Elizabeth, a half sister of Henry Krebs.  He was the grandfather of our honored members, J.H. Crab and Mrs. Jackman.  Here is first child was born in 1775, my paternal grandfather Benjamin Shane (2).  After the close of the Revolution the Shane and Kreb families gathered their effects and started over the mountains by what is now known as"The Old Trail".  Over this trail in the spring of 1782, children running and riding by turnsex, came the emigrants with their rude wagons drawn by slow oxen.  Later the "The Old Trail" was dotted by 6, 8, and 10 horse teams hauling wheat from the rich valleys of the Tuscarawas and salt from the salt wells of Jefferson Co. Today, motor driven trucks  laden with the merchandise of every kind speed up and soon the long hills of the "Old Trail".  The Shane and Krebs families crossing the Monongahela River at Brownsville, settled in Washington Co. near Bentleysville.  The Shanes connected themselves with the Pigeon Creek Presbyterian Church.  Here in December, 1782, twin sons were born to James and his wife and were named Abraham and Isaac (2) the latter being my maternal grandfather.  Of Isaac Shane we speak later but we may  say  in passing that Abraham was a soldier in the War of 1812, married, had one son who was drowned while on a fishing trip in the old Ohio Canal.  Broken by the death of his wife and son, he came back to his brother Isaac and died there in 1852.  He lies in the little cemetery on Bacon Ridge.  The village of Shanesville in Tuscarawas Co. was named in his honor.
 With an increasing family James (1) decided to move to Jefferson Co. and in the spring of 1798, with his family and goods loaded on a wagon drawn by oxen, his cows and old mare walking b-hind, after a 3-day trip they crossed the Ohio at Cables Ferry.  When traveling up Wills Creek he turned to the ridge on his right and camped on what is known as the Cunningham Farm, now owned by the Wayne Coal Co.  Near a spring they cooked their meal and grandfather as was custom before retiring, held family worship.  In the midst of their devotions, a wolf attracted by their fire or perhaps by grandfather's lusty rendering of "Dundee" or "Marlow" raised on his hind feet and looked over a log a short distance away, then silently skulked away in the shadows.  This incident was related by my grandfather with great relish.
Here great-grandfather built his cabin and here the last of his 12 children were born.  Great-grandmother was said to have been good and capable and of great aid in sickness, doctors being scarce in early days.  Here they lived until death when the farm was taken  over by their son Henry, who built the brick house, the date stone can still be seen dated 1838.  Henry Shane (2) married Betsey Palmer, moved to Medina Co., about 1852.  He died about 1875 and left numerous descendants.
Of the 12 children of James the pioneer, the oldest Benjamin (2) married Mary Ann Neblak of New Jersey.  He settled in Tuscarawas Co. and died in 1818.  His wife and family went back to their friends.  His some were James (3) father of Nancy Winters (4) and Elza Shane of Texas who are the only survivors.  Elza Shane (4) has several daughters in this County, Mrs. Kirk (5) and Mrs. Graham (5) of Rayland who have met with us.  George A. Shane (5) is also a grandson of James (3).  Also, Mrs. Hetty Ford of Smithfield, a grand-daughter.  James Shane (3) married Catherine Morrison.  Mrs. Nancy Winters still survives, has numerous posterity and all live in the West except Mrs. Blanche Welday.  Other descendants of James (3) are the family of Alex Shane (4) all living in California except Mrs. Harry Ford.  The Descendants of Rev. Joseph Shane (4) are Mrs. John Sanders, Mrs. Mary Palmer, Mrs. E. Elsen and Dr. J. W. Shane of Toronto, Ohio.  All have children and grand-children.
The families of Geo. A. Shane (5) and Mrs. Margaret Crawford are descendants of John C. Shane (4) son of James (3) also 2 sons of James Shane (5) survive, Arthur and Ralph. East Orange, N.J. is their home.
Joseph Shane (3) married Susanne Shane a cousin.  Severn children were born to them of whom 3 survive.  Children:-Isaac J. Shane (4) married Lou Ross, moved to Wisconsin in 1861.  He died there in 1890 leaving 3 sons and several grandchildren.  Helen (4) married John L. McLean and died in 1924 leaving 4 sons and a daughter.  All have families.  Two sons reside in York State. Hannan (4) died in 1867.  Charles R. married to Emily Critser had 6 sons and several grandchildren.  B.F. Shane married Essie George, had 2 children and some grandchildren.  Dr. Jessie F. Shane (4) died in 1914.  Anna B. (4) married W.W. Scott, has a large family-children and grandchildren.  Abraham (3) married, moved to Medina Co. in 1856 and left numerous descendants.
John (2) married Betsey Nichols, had 2 daughters and 2 sons.  H.S. Mills, John S. Mills, and Fred Mills are sons of his daughter Amanda (3)who married Joseph Mills.  John Shane (2) and wife moved to Iowa and died there leaving numerous descendants.  The other sons of James (1) moved to western and central Ohio before 1840.  From time to time they were heard of, but most trace of them has been lost.  The 2 daughters of James (1) married, Sarah to John Gourdy who posterity still live in Iowa and Susie married Harvey Nichols of whom little is known.  Isaac (2) married Hannah Rex. She was the daughter of George Rex an Englishman who settled in eastern, Pa.  He was said to have been a Tory during the Revolution.  His oldest daughter Margaret Rex married Isaac Winters and took up from the government the farm now owned by Joshua Moore near Wintersville.  Hannah Rex (and here is where we get our Hannah's) was visiting her sister Mrs. Winters when Isaac (2) met and soon married the pretty girl from Greene Co. in 1804. Hannah Rex Shane was a true pioneer, strong, capable and resolute she braved the dangers of early times without flinching. She was fond of relating that when her father came over the Old Trail in 1794 she was 9 years old and walked all the way only catching by the back of the wagon betimes.
 When her first son George Rex Shane (3) was 3 years old, she rode horse back and carried him on her lap back to see her old father.  Her husband went with her and helped her ford the Ohio at "Wells Riffles". He then came home and she  made the rest of the trip alone.  Isaac Shane (2) settled on the farm on Bacon Ridge now owned by E.L. Wilson.   They connected with the Presbyterian Church there, and on that farm their 9 children were born.  Martha (3) wife of James Allen died in 1966 without issue.  Eliza (3) married to William Walker in 1829.  Two children were born, Hannah (4) in 1850 and William (4) in 1833.  After William Walker's death Eliza (3) married Alexander Morrison.  They raised a large family many of whom are honored members of the clan: Isaac H. (4) married Jennie Miser and had 5 children. Isaac H. (4) died in 1898. It may be stated here that Mrs. J.M. Umsetter (5) and the families of Dr. R.E. Scott (5) and W.W. Scott (5) and Mrs. John Frazier (5) are descendants of Eliza Shane and William Walker. Mary (3) married Abraham Crabb, they raised a large family of whom James H. Crabb (4) and Mrs. Jackman (4) still survive.  Also their son Isaac (4) left numerous descendants, and Mrs. Sarah Bersford (4) is the oldest living member of the Clan.  She has the honor of sending 6 grandchildren into the service of their country.
George Rex Shane (3) married Susan Markle and 2 sons, Dr. G.A. Shane of Waynesburg, Ohio survives.  Susanna Shane (3) married Joseph Shane (3) had 7 children, 3 of whom survive. James H. Shane (3) twice married, first to Eliza Mills, 1 son Stanley Shane (4) died at Nashville, Tenn., in 1862, a soldier.  He lies in the Shane cemetery on Bacon Ridge.  James (3) then married Charlotte Rhinehart. Two children survive, J. R. Shane (4) of Miami, Fla., and Mrs. Eliza Northrop (4) of Omaha, Nebr. Each has several grandchildren. Isaac Shane (3) married Hannah Beard.  They had a large family.  Mrs. Nan Rutledge and Rex Shane of Minnesota survive, also numerous grandchildren.
John Shane (3) married Hannah Cowdy his cousin.  He had 2 daughters of whom Mrs. Ida Shane Devon still survives.  He studied law, was admitted to the bar and moved to Iowa in 1856.  He was colonel of an Iowa regiment through the Civil War, was elected to the Iowa State Senate, the appointed to the Judicial Bench.  In a letter to my father in 1878 he spoke of his experiences and said he was a member of the Chicago Convention that nominated Abraham Lincoln for president in 1860.  Henry Shane (3) married Martha Taylor.  They had a large family and moved to Nebraska in 1873.  One son Stanley lives in Idaho and several daughters live in Burt Co., Nebraska.
Hannah Rex Shane died in 1866.  Her husband Isaac (2) lived till 1880, almost 97 years old.  They lie side by side in the little "Graveyard" he selected on the corner of his farm.  His descendants to the 6th generation lie there.  In this account of the posterity of our Great-Grandfather, I may be excused when I speak of them as I often heard from the lips of my father.  They were tall men and brought up in the fear of God—attendants of the Two Ridge Church in their youth.  They were good natural singers, fond of music, fond of their jokes and the life of many a log-rolling and husking bee.  Several were millers, as milling was profitable then.
Joseph (2) was fond of books and taught school on a log school house, which he named Cannonsburgh in honor of the famous old log college near Washington, Pa. Isaac Shane was a famous singer "led the tune" in olden time and there are those living yet who remember his powerful soprano voice as he sang "Loving Kindness" and "There is a land of Pure Delight".
While the family were primarily farmer,s years found them in many occupations, 3, Rev. Joseph Shane (4),  Rev. Frank Shane (4) and Rev. J. Cook Winters were honored ministers of the M.E. Church.  All have passed to their reward.  There were many worthy teachers in the ranks, professional men, men in public life, merchants, mechanics, engineers and railroad men and many women filling places of usefulness.  With the outbreak of the Civil War 19 young men of the family answered their country's call.  Two survivors, Dr. G.A. Shane of Waynesburg, and our host of today, Charles R. Shane.  Both are over 80.  Mrs. Willie Shane Jack (4) of Nebraska sent her son Arthur to the Spanish American War.  He came home safely.
In the World War the following answered the call:  Arthur Shane (6) Ralph Shane (6) sons of James Shane (5) of East Orange, NJ.  Ralph Williamson (6) served in the 33rd Infantry in Italy, honorably discharged, home safely.  Ray L. McLean (6) 83rd Division, 423 Heavy Field Artillery, left for France in July, 1918. Was a graduate of Mt. Union College in 1917.  After Armistice was signed was appointed to Oxford University, on his way there was taken sick at Goul and died there in influenza.  Paul H. McLean (6) his brother enlisted at 20 years in the 134 Machine Gun Battery with Capt.. Francis McCook.  Was in the final drive in Belgium, and died there of pneumonia.  The remains both were brought home and interred in the family plot in Toronto with full military honors.
Two sons of Stanley Shane (4) of Pocatello, Idaho, served through the war and came home safely.  The following sons of Kate Morrison Cox (4) Nebraska: Otto D. Becker, Co. E 5th Nebr., age 19 enlisted, sailed June, 1918, was through Chateau Theiry drive, went over the top and came home without a scratch.  George D. Becker volunteered at Lovell, Wyo., 1917, 148th Heavy Artillery 1917 was at Chateau Theiry, came home with 3 gold bars.
Sarah Crab Beresford (4) Iowa, sent 6 grandsons to the service; all came home safely.  Some were in training camp waiting for the call, among whom we may name Joseph C. Shane (6).
Doubtless there are others, I have not been able to locate.  Words fail when we try to express sympathy to whose who have lost, and let us resolve today to do what we can to outlaw war.
125 years have passed since James Shane (1) came up Wills Creek with his family.  Wolves howled in the forest and an occasional Indian was seen.  We meet today under strangely different conditions.  To his posterity to the 7th generation meet to great each other, break bread together and renew half forgotten ties.  Our ancestors were God fearing men and women, who by their faith, their vision, their heroism under difficulties, made it possible for us to enjoy life, its comforts and opportunities for usefulness, as we enjoy them today.  Let us not betray our trust.
Note-The foregoing was read at the annual reunion of the Shane descendants August 2, 1924, by Annie B. Scott (4) who is also the author.
Original is typed on onion skin paper.  Please contact Lynda Shane Stover Doll, PO Box 561, Sautee GA 30571, (706) 878-2526 or lyndadoll@windstream.net  for further information.