Wells Township
Jefferson County, Ohio
Remote area, recently heavily logged, overgrown, pole fence down due to logging and neglect. This cemetery is in deplorable condition. It appears that most tombstones are intact.
Information provided by James and Lola Maxine Wolfe
The chapter attempted to contact them but the letter was returned
They shared this information in the form of a letter to the Ohio Genealogical Society as well as the
Jefferson County Chapter, OGS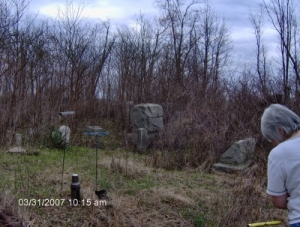 Tammy Hosenfeld at Matthew's Cemetery
Note the condition of the cemetery
Photo Taken 2007
Some call this pipe fenced cemetery Everson Cemetery but it was called the Mathews Cemetery by Mr. James Bennett Everson. It is located south of County Road 151, down Buckingham Ridge Road on County road 162, about one mile to a deep valley to the west. Then follow the crest of the valley, on foot, 300 steps west, south 365 steps along that you will see the valley on the west side of the ridge, then go south along the backbone of the ridge for 300 steps to arrive to this cemetery. All trees were clear from the enclosure but sassafras bushes knee high cover the enclosure.
Mr. Everson reported his grandfather, James Everson was born Aug. 26, 1805 in Utica, N.Y. and came to Wheeling WV in 1824 (Virginia at that time) before going to Iowa. He married in Iowa and two children were born of that marriage, namely Samantha and Elmer. His wife was so surprised to see someone peeking through the window that she dropped dead of fright. After his wife's death by fright, his grandfather returned to Ohio and married two more times. Second marriage was to a Long and the third to Elizabeth Carey. His grandfather's son, Elmer's stone was found in the Mathews Cemetery but Samantha's was not found, although Mr. Everson said she was buried there.