Remote area, heavily stripped over the years. Appears that most tombstones are intact.
Location: North 40 º 18.280' West 080 º38.683'
Photo taken by chapter member and cemetery volunteer, Anna Cottis
 Gould Cemetery,
Cross Creek Twp. that of a Civil War Veteran, note the broken small GAR shield in the front right corner of the photo. It's the first time we've seen a shield that small
.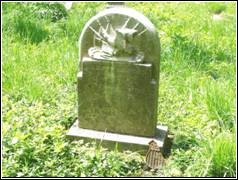 Click to read the following:
A Visit to the Loyd Family Cemetery in
Cross Creek Township,Jefferson County, Ohio
David L Quinn New Concord, Ohio
6 Feb 2010
A History of the Loyd Family Cemetery - Research by-Alan B. Gould - Provided by David L. Quinn
Click here to visit the Loyd Family History Page
---