Photo courtesy Hollow Rock History
Where's the Rock? Since there is no visible evidence of a "Hollow Rock" in the grounds, the question "Where's the rock?" inevitably surfaces among both newcomers as well as some regular camp attendants. There is more than one version of the derivation of the name of this valley, but as far as we know, none of them place "The Rock" on the campground.
One supposition related by Robert Schilling reads as follows: "Hollow Rock is named from the fact that at about 250 feet below the junction of Tarburner Run (which is about two miles north of the camp) and Hollow Rock Run was a huge rock cavern. The Indians and pioneer hunters used this cavern. There was a salt lick close by and this brought wild animals, making a great place for hunters. The big flood of 1902 (some say it was actually in 1901) filled the cavern, and the road now passes over the rock." (Schilling, pg. 34).
According to the Rev. L.O. Douds, this was a disastrous flash flood, which struck the Hollow Rock Valley, sweeping away trees, buildings and livestock. It occurred in June and although there was widespread damage to the camp and some of its building, the grounds were restored in time for the August meeting that year.
Camp attendant Wendall Vance relates another possibility for the basis of the "Hollow Rock" name. He states that at the point of origin of Hollow Rock Creek is a cavern large enough to hold about a dozen men. It is possible that the name was derived from this natural formation also.
Cloudburst and Flood
Herald Star Newspaper, Jun 12, 1901
Island Creek a Raging Torrent – Wall of Water Swept Everything Before It! – Toronto & Empire also Deluged by Worst Storm in Years!
Blackburn's Mill oil tank torn down & carried away…three courses of stone were torn out of Johnston's dam… Joseph Chambers, Thomas Johnson, John McCowan, Crawford Young, John Taggart, and Thomas Beaver suffering heavy damages…Joseph Blackburn lost two 200 pound hogs which were swept away and drowned by the waters of the creek.   At Toronto water was up over Edward Chadegan's walls… Ault and Peter's Bakery caved in…all the manufacturing plants stopped due to the flood waters…lightening struck the residences of Thos. Green & J.L. Higgenbotham, who is the caretaker of Toronto Union Cemetery…near the mouth of Croxton's run, John Walker's house was surrounded with water… At Empire never in the history of this town has such a storm occurred…C&P railroad tracks were swept away. The largest track swept away was at Port Homer where tons of rock and earth came down from the hillside and covered the tracks for 100 feet. Many travelers by train were stuck in Toronto, Port Homer and Wellsville.
This priceless antique photograph attests to the interesting fact that six preachers, all well-known orators of their day, were present on the campground at the same time. Great preachers of Hollow Rock Camp, back-dropped by the first tent.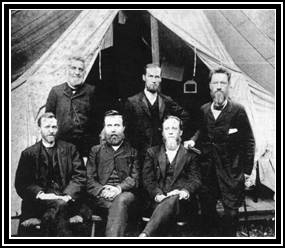 Photo taken about 1877.
Standing: George W. Dennis, camp organizer, G.F. Oliver, Sheridan Baker.
Sitting: E.I.D. Pepper, Joseph Smith, and David Updegraph.