{Referencing D. W. Thompsonís second book published by the Richmond Community Historical Society, spanning from 1815 to 1986, Civil War chapter, pp.78-108.}
†
J. Taylor Holmes had served as President of Richmond College and in 1862 raised a company of volunteers. Serving in the 52nd Regiment under Colonel McCook he marched and fought hard. At one point, being too sick to retreat from Lexington to Louisville with his troops, he was left at a private home for care. The ladies of Richmond had presented him a fine sword before his departure and this he hid in the chimney flue to escape capture by the ďrebsĒ. When fully recovered, he wore the sword and scabbard in his pant leg and walked stiff-legged through a picket line.
Dr. Samuel Rothacker, born in Pennsylvania in 1825 and raised in Carroll Co., Ohio, had come to Richmond in 1856 and opened an office. He moved to Steubenville where he practiced five years. Activated by motives of patriotism he volunteered his services as army surgeon in March 1862, and served as such at Pittsburgh Landing and elsewhere. Ill, he returned to Richmond in June but by August enlisted in Co. G, 52nd O.V.I. Mustered into service as a first lieutenant, he was promoted to Captain in May of 1863 and served in many battles including Stone River, Tennessee, Kenesaw, Jonesboro, Buzzard Roost and Peach Tree Creek. Discharged with a disability in 1865, he continued his practice until his death in June of 1908 at age 83. His old commander Colonel Holmes delivered the eulog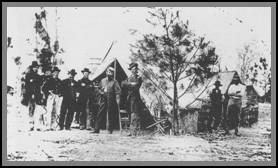 Photo taken at Lee & Gordonís Mill, Georgia, April 1864. Group of 52nd Ohio Officers. From left: David F. Miser, {D.W. Thompsonís book lists Dr. Samuel Rothacker instead of D.F. Miser}, Frank B. James, Julius Armstrong, James H. Donaldson, Charles W. Clancy, J. Taylor Holmes. {Two black servants far right.}
Eli M Pyle was born December 9, 1803 on his parentís farm in Washington County, Pennsylvania. As a young man, he emigrated to Ohio and studied medicine with Dr. Hamilton at Mt. Pleasant. He was licensed to practice May 31, 1831. In 1832, Eli married Sarah Shields of Cross Creek Twp. in Jefferson Co. and that year located at Richmond where he served as doctor until his death in Jan. 1873. He was one of the first trustees of Richmond College. He was an intimate friend of Edwin M. Stanton, tendered his service as volunteer surgeon for the Union Army. The Pyles were parents of ten children: William, Roxanna, Mary, Margaretta, Thomas, Samuel, Sheridan, Anna, Paulina, and Emma. Eli gave two sons to the Union Army, Thomas H., of the 8th Regiment. His eldest son, W.H. Pyle, M.D., of Kaufman, Texas, whose family and interests were identified with the South, joined the Confederate forces as Brigade Surgeon in General Carterís Texas Cavalry.
Joseph Harry Hale was born near Richmond, Ohio in 1839. Desirous of being useful, he sought an education and attained manhood in full strength and stature. It was then that a mighty revolution came upon him and Harry enlisted May 18, 1861 at Wellsburg, West Virginia, in Co. G. 1st W.Va. Infantry. He proceeded to Wheeling Island and from thence to the Virginia Hills. After a series of tribulations he arrived at Grafton where he was attacked by fever and taken to a private home for care. A few weeks later Harry went down into the valley and shadow of death. His father, in company with Comrade Rothacker, brought the remains home. This was the burial of the first fallen soldier of this vicinity. Public services were held with a large attendance, and Harry lay to rest in the M.E. Cemetery, Salem Twp., Richmond, Ohio.
Civil War Veterans buried in Richmond
There are 67 known Civil War veterans buried in Richmond. Two Richmond residents died in the Andersonville prison: Benjamin Rex died October 8, 1863, age 24, and is buried at Shanetown and George S. Parson died September 10, 1864, age 37, and is buried in the Quaker Cemetery.† William Glue spent 250 days in the rebel prison at Andersonville and was released at warís end. Eight from Richmond were killed in action and are buried here; the bodies of six were never returned to their homes.