James W. Glasener/Glasner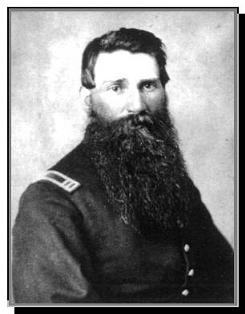 James W Glasener/Glasner
1834-1868

(Information & photo submitted by, Lee A. Elkins, 3016 Jasmine Rd. N.W. Carrollton, OH 44615)  James W. Glasener (Glasner) was born in 1834, the son of Garrett and Anne (Maholm) Glasner. His maternal grandfather, Sam Maholm fought in the Revolutionary War. They lived in Annapolis, Salem Township, Jefferson County, Ohio area.  James married Catherine Buchanan and was the parents of two children; George B. and Elizabeth Todd. He died on June 27th, 1868 in Steubenville, Jefferson County, Ohio and is buried in the Steubenville Union Cemetery.  The submitter believes that James fought in the battle of Nashville and he hopes to learn more about James' service record during the Civil War.  James is the submitter's maternal great, great uncle. 

Service record of James W. Glasener/Glasner

James entered the service on September 1, 1861 at age 29 years.  He was promoted from 1st Lt. in Co. G to Captain in Co. F on February 11, 1864.  He resigned on March 22nd, 1864 for disability and reentered service August 3, 1864.  James mustered out with Co. G on June 17th, 1865.  His service record information was obtained from the publication titled, "Ohio in the Civil War" (from the Ohio Historical Society, Columbus, Ohio) Volume 2, page 47, and Volume 9, page 610, dated February 1976.  If you have any information on this soldier's military record, siblings or parents, please contact Lee at the above address.