(Submitted by chapter member, Regina Kenney. She can be contacted at REGINAW648@aol.com). The postcard photo below was sent from Hanlin Station, PA., November 29, 1909. William Phillips, who was the postmaster at the time, sent it to Elizabeth Phillips Hamilton, his aunt, who was married to John Tidball Hamilton. They lived at Hollow Rock Camp where he was a caretaker and elected a board member in 1906.
The postcard pictured below is of the GILLISPIE house. Does anyone know where this house was located and if it is still standing? Elizabeth Phillips Hamilton once lived there.† I would love any information on the Hamilton or especially the Phillips family!
Gillispie Homestead, taken 1909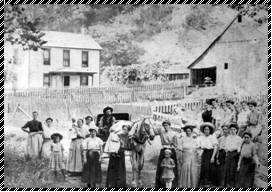 Photo courtesy of Regina Kenney. Wow!20 women, 1 man, 1 girl, 1 boy, and 2 babies.
John Tidball Hamilton was born in Knoxville on March 17, 1836. His father was James Hamilton who was born in 1799. Johnís mother was Esther Hunter who was born 1800 in Steubenville, Jefferson County, Ohio. She was the sister of James Hunter, the first white child born in Steubenville. John Tidball Hamilton fought in the Civil War. He was a boilermaker. Johnís wife was, Elizabeth Phillips Hamilton who was a charter member of the anti-saloon league. Their children were; Thomas Patterson, Katherine Eleanor Bougher, John Carlisle and Charles Silas.† Both belonged to the Methodist Church and are buried in the Steubenville, Union Cemetery.
Elizabeth Ann Phillips Hamilton was born in Eldersville, WV. April 29, 1844. She was the daughter of Thomas and Rosanna Goff Phillips. Her siblings were; Katherine, Sarah, Rebecca, Abigail, James and Cornelius.
Alan Gould identified the photo on pg. 19. It was taken at Kidds Mill in Jefferson Township, Washington Co., PA. The house was built by Charles Scott & is still known as Scottís Run today. The Mill was shut down in the early 1900ís and for the next 10/12 yr. the property was operated as a summer resort hotel for working girls from Pittsburgh who came for two week vacations. Anges Kidd Murchland who is believed to be the woman on the extreme left of the photo, operated the Resort. There is nothing there today except the millstone & a depression where the house once stood. The deed search revealed that Charles Scott sold to Samuel Cresswell. Cresswell sold to Thomas Weaver. Weaver sold to David Benjamin. Benjamin sold to Nathaniel Gillespie in 1868. Gillespie sold to G. Chalmers Miller in 1878. Miller sold to Eliza Kidd in 1885.